Create a more effective culture

Get more done in a short amount of time

Raise the Performance
of Your Team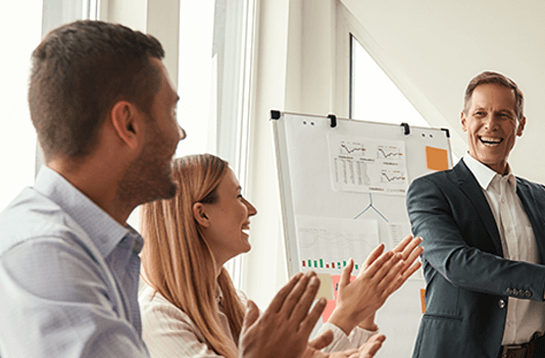 Your biggest asset is your people. And in most situations, especially in leadership, these people work together in teams. Teams make the difference in the overall performance of the individuals within them. Making teams work well is critical to organizational success. Through our Team Development services, leadershipForward equips teams to become high performing units, as exhibited by trust, healthy interaction, strong commitment, accountability, and results. No matter what level of the organization, our work goes way beyond traditional gimmicks, building sustainable improved performance.
Jump-Start Your Organization's Performance
When it comes to Team Development, we offer our Catalyst Leadership Program. Catalyst is your organization's execution accelerator. We focus on the building of higher performing leadership teams that in turn raise the performance of your organization.
We know what it feels like to have the pressure of leading a
team all on you
Join the thousands of leaders that we've helped since 2002 to become more
effective and successful.
leadershipForward helped us through a difficult leadership transition, building team culture, vulnerability, honesty, and comfort working together all while going through changes in the makeup of our team. The Catalyst program gave us the tools we needed to understand ourselves and boost team performance. For organizations willing to commit to the process of culture change I highly recommend leadershipForward
Schedule a
Call
Schedule a call with us, and we'll talk through where you're at in your leadership journey.
Find out how you can level up your leadership with a customized plan
We evaluate your leadership and your organization's current state and create a plan custom tailored for you based on years of real-world experience to see real-world results.
Become the leader who transforms your organization
We work closely with you and your organization to help you put your plan into practice for maximum impact. Now you can lead with confidence and enact lasting changes in your company.
All the Services We Offer
Executive Coaching
Strengthen Your
Leadership
Leadership Development
Build up a pipeline of more
effective leaders within your
organization
Team Development
Boost your team's
effectiveness
Catalyst Executive Team Development
Learn how leadershipForward has helped develop high performing teams with increased effectiveness and 'buy-in' in just one meeting a month.